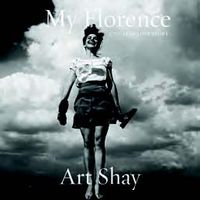 BACK
MY FLORENCE
A 70-Year Love Story
My Florence is a collection of striking moments drawn from the shared life of renowned Chicago photojournalist Art Shay and his beloved wife, Florence. By turns casual and glamorous, pensive and humorous, the photographs start on the day Art and Florence met in 1942, as 20-year-old camp counselors in the Catskill Mountains, and continue for seven decades.

Former Life magazine staff reporter Art Shay is famous for immortalizing some of America's most compelling 20th century figures, including John F. Kennedy Jr., Muham­mad Ali, and Eleanor Roosevelt. But the story of Florence was Shay's constant beat. The result is a story that runs deep and reads as a call to joy and source of inspiration for lov­ers, family, and friends.

After flying fifty-three combat missions in World War II, Art Shay joined Life maga­zine as a staff reporter, before leaving to become one of American's leading photojournal­ists. His pictures regularly appeared in Time, Fortune, The Saturday Evening Post, Forbes, Business Week, Parade, and The New York Times Magazine. Several have been singled out as among the most enduring American photographs ever taken. He lives in Chicago and blogs weekly, "From the Vault of Art Shay," for the Chicagoist.
More like this