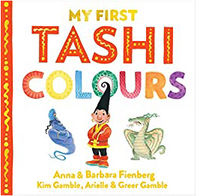 BACK
MY FIRST TASHI: COLORS
This fun early concept picture book uses Tashi characters to introduce the idea of identifying colours.
In this world of magic and mystery, you can see ...
Red Tashi
Green Dragon
White Tiger
Gold Treasure ... and a RAINBOW of fireworks!

Learn colours and discover a vibrant world filled with mythical creatures, wild adventures and magic, and a brave and bold boy called Tashi.
More like this