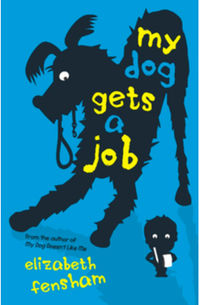 BACK
MY DOG GETS A JOB
From one of Australia's most-loved and prolific authors comes a funny and endearing tale about a boy called Eric and his dog Ugly.
At almost ten years of age, Eric is now the responsible owner of his dog Ugly. But when Ugly is involved in a series of mishaps including the theft of a roast chook and a bedroom decorated with duck poo, it is clear Eric needs to do something to keep his dog out of trouble. Luckily, Eric knows exactly how to solve the problem ... Ugly needs a job.
But how can Eric find a job for a dog, even if his dog is a genius?

Humorous and engaging, My Dog Gets a Job will appeal to pet lovers of all ages.

Elizabeth Fensham has been writing for the last twenty years. Her first novel, The Helicopter Man, won the 2006 CBCA Book of the Year for Younger Readers. Previous young adult novels include Miss McAllister's Ghost, winner of the 2009 Age 'Book of the Year', and Goodbye Jamie Boyd, which was shortlisted for the 2009 Bologna Book Fair's White Ravens Award. Fensham's first younger reader, Matty Forever, was shortlisted for the 2009 CBCA Book of the Year for Younger Readers.
More like this