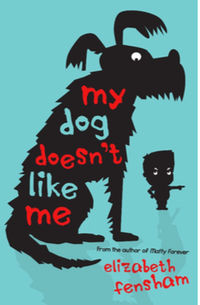 BACK
MY DOG DOESN'T LIKE ME
A heart-warming new book from the author of Matty Forever.
Eric is very disappointed in the dog he got for his eighth birthday. He thought the dog, named Ugly (because he is just that), was going to be his 'best friend'. But Ugly doesn't even consider Eric his first- or second-best friend.
Ugly loves Eric's mum, grandad, dad, and his horrible sister Gretchen, even more than him.
Desperate to make Ugly love him the most, Eric puts some crazy plans into action to win over his pooch.
Will Eric uncover the secret to Ugly's heart, or will he forever have to watch his dog dote on every other family member except him?

One of our most-loved and prolific authors has written a beautifully told story that will resonate with pet lovers of all ages.

Elizabeth Fensham has been writing for the last twenty years. Her first novel, The Helicopter Man, won the 2006 CBCA Book of the Year for Younger Readers. Previous young adult novels include Miss McAllister's Ghost, winner of the 2009 Age 'Book of the Year', and Goodbye Jamie Boyd, which was shortlisted for the 2009 Bologna Book Fair's White Ravens Award. Fensham's first younger reader, Matty Forever, was shortlisted for the 2009 CBCA Book of the Year for Younger Readers.
More like this