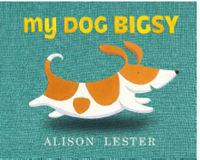 BACK
MY DOG BIGSY
From Australia's favourite picture-book creator, Alison Lester, comes this energetic story about a little dog who causes a big commotion. This picture book is a gorgeous, energetic story about a little dog who causes a big commotion!
Meet my dog Bigsy.

He's only small, but everyone knows he's the boss.

Each morning he visits the animals on the farm.

Squawk, neigh, quack, moo, baa, oink, cluck, purr, ruff ruff ruff!

What a lot of noise! And all because of Bigsy!

Alison Lester (Australian Children's Laureate, 2012-2013) is one of Australia's most popular and bestselling creators of children's books. She has won many awards, including the 2005 Children's Book Council of Australia (CBCA) Picture Book of the Year Award for Are We There Yet? and the 2012 CBCA Eve Pownall Book of the Year Award for One Small Island. Her picture books include Running With the Horses, a story based on the evacuation of the world-famous Lipizzaner horses from the Spanish Riding School in Vienna during World War Two; One Small Island, about the possibility of hope and environmental preservation for a World Heritage listed island and for the world itself; Sophie Scott Goes South about a little girl's voyage to Antarctica and the sense of wonder that it brings; and Kissed by the Moon, a lyrical celebration of the natural world and all that it has to offer a child.

Alison lives on a farm in the Victorian countryside. She spends part of each year travelling to schools around Australia, helping students and teachers develop their own stories.

Weblink:
alisonlester.com


More like this