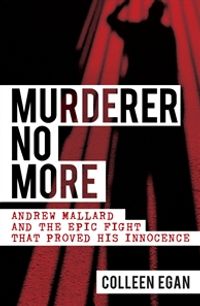 BACK
MURDERER NO MORE
Andrew Mallard and the Epic Fight That Poved His Innocence
Imagine sitting in a maximum security prison, wrongly convicted of murdering a woman you've never met. This was the fate of Andrew Mallard. His incredible story is a battle for justice, truth and, ultimately, freedom.
Even great courts and independent judges can sometimes get things wrong. Reading this book, we should resolve to strengthen our defences against miscarriages of justice.
The Hon Michael Kirby AC CMG, past Justice of the High Court of Australia

In 1994 Pamela Lawrence was brutally bashed to death in her jewellery shop in Perth. Police suspicion fell on a young drifter named Andrew Mallard. Although innocent, he was charged and convicted of this murder. It took 12 years and an epic struggle by Andrew's mother and sister, a team of lawyers and West Australian journalist Colleen Egan to right this wrong.

Not only did their unrelenting battle for justice end in the High Court of Australia making a devastating judgment against the West Australian courts, but it also led to cold-case investigators identifying the real murderer.

This is an emotional roller-coaster of a book, brilliantly and compellingly written. It is about justice, survival and what can happen when good people take on the system.

Colleen Egan is a Walkley Award-winning Perth journalist, who has worked over the years for The West Australian, The Sunday Times and The Australian. She is currently an assistant editor of The West Australian.
More like this