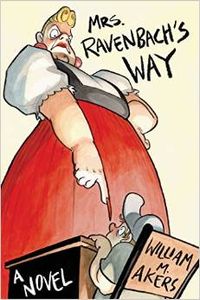 BACK
MRS. RAVENBACH'S WAY
A funny, satirical first novel about a dictatorial teacher and the irresistible boy who stands up to her.
Set in a fifth-grade classroom, William Akers's sharp, funny debut novel is a brilliant satire of a dictatorial teacher who bullies her students and a charming portrait of a young boy who stands up to her.

Mrs. Ravenbach, a vaingloriously German woman, teaches fifth grade at the McKegway School for Clever and Gifted Children and loves order, "beautiful, delightful order. Nothing is more important than the order. The order, and the discipline." But when a new student, Toby Wilcox, arrives he disrupts her neatly ordered universe. Events spiral as Toby conspires to reveal the tyranny of Mrs. Ravenbach.

In alternating sections Akers brings to life these unforgettable characters. Mrs. Ravenbach's increasingly venomous chronicles of her efforts to rein in Toby reveal a woman unhinged. Toby's journal entries and cartoons are a window into the spirit of a young boy—the humor, the imagination, the loneliness, and the resilience. This deft, highly original debut will appeal to readers young and old.

Mrs. Ravenbach's Way is the first book in The Amazing Escapades of Toby Wilcox series.

Author of Your Screenplay Sucks! 100 Ways To Make It Great, William M. Akers is a WGA Lifetime Member and has had three feature films produced from his screenplays. He has written for studios, independent producers, and the major television networks, and is a professor and the Chair of the Motion Pictures Program at Belmont University. Akers gives writing workshops around the world and is a regular speaker at Story Expo in Los Angeles. He speaks nearly unaccented French and was a Jeopardy! contestant.
More like this