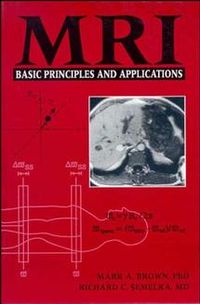 BACK
MRI
Basic Principles and Applications
MRI
BASIC PRINCIPLES AND APPLICATIONS
Mark A. Brown, PhD, and Richard C. Semelka, MD
Magnetic resonance imaging (MRI) offers significant advantages over other diagnostic imaging modalities, particularly its capacity to image soft tissue without exposing patients to ionizing radiation. Additionally, new technical advances are continuing to improve the speed, flexibility, and clinical importance of MRI.
MRI: Basic Principles and Applications outlines the core concepts of MRI for clinicians and technologists who do not necessarily have an extensive background in physics. Technical data and key equations are included to ensure thorough coverage, although prior knowledge of this material is not a prerequisite to understanding the accompanying text. The authors smoothly integrate a discussion of the basic physics of MRI with an overview of the guiding principles for its clinical application. A description of the hardware critical to MRI systems and a broad overview of the issues involved in developing imaging protocols are also included.
Individual chapters address such specific topics as:
Resonance absorption and chemical shift
Relaxation
Pulse sequences
Artifacts
Motion artifact reduction techniques
Fat suppression techniques
MR angiography
Contrast agents
MRI: Basic Principles and Applications features over 40 MR images that illustrate a range of clinical applications, while numerous line drawings clarify the essential physics of MRI. The book provides an accessible, but comprehensive, resource for radiologists, MRI technologists, and radiology residents. Graduate students in medical physics will also welcome this clear, concise introduction to MRI.
More like this