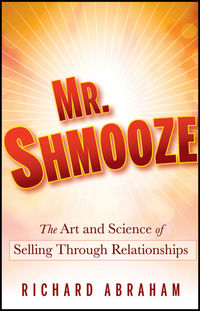 BACK
Mr. Shmooze
The Art and Science of Selling Through Relationships
Do you know
Mr. Shmooze
? You might. You know that person who can light up a room? Who makes business fun while making it look easy? You know that person who always thinks of that extra little something—a shared hobby, a mutual friend, passion for a cause—because he or she genuinely loves bringing people together?
Believe it or not, that person, that "Mr. Shmooze," has mastered the secret of selling: selling is giving. The greatest salespeople actually give for a living. Now how does that work?
If you want to find out, spend some time with Mr. Shmooze in this entertaining, lighthearted, and inspiring fable. Join Mr. Shmooze and his summer intern Robert on a journey into the hearts and minds of the people they touch in so many engaging and powerful ways. Read and learn how to build lifelong relationships by focusing on real connections with real people. If this sounds like a natural and thoroughly enjoyable approachto selling, that's because it is!
"Selling is the art and science of a great subject: the subject of life," says Mr. Shmooze. Mr. Shmooze gives you a look at how business and life—and success in both—are natural allies, not separate compartments. You'll see how sales skills matter not just in making deals but also in adding value to people's lives, whether through worthy causes or simple, day-to-day interactions. In one sales setting after another, Mr. Shmooze demonstrates how you can bring more passion, commitment, leadership, optimism, and energy to your life and work.
Do you believe in win-win relationships? In "doing well by doing good"? If so, Mr. Shmooze gives you a one-of-a-kind toolbox to build fellowship and goodwill into your selling strategy. Who is Mr. Shmooze? Find out . . . and unlock your own irresistible force for success not just in sales, but in life itself!
More like this