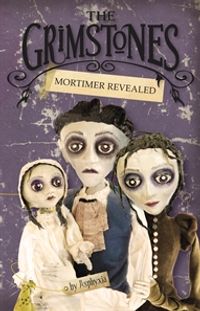 BACK
MORTIMER REVEALED
The second magnificent adventure for Martha Grimstone. Discover the secrets that lie in Mortimer's crypt, in this sweetly gothic fairytale told in a collage of words, photos and drawings.
Hello, I'm Martha Grimstone, sometimes known as the Magnificent Lady of the Upside-down Writing Act. When I'm not in the mulberry tree, I live with my family in a broken old house built by my Grimstone ancestors.

My father died when I was a baby, but Mama and Grandpa Grimstone refuse to speak of him. I'm determined to find out what really happened. Luckily, Crumpet promises to unlock the door to all our family secrets. He's my baby brother, and he finds a touch of magic at every turn.
The Grimstones: Mortimer Revealed is a gothic fairytale about a magical doll's house, a valley full of thirsty herbs, and a departed father who had a magnificent hidden talent of his own.

Asphyxia is a circus performer turned puppeteer, and a writer. She is also deaf. Her name is unusual, but she is an unusual person! Asphyxia grew up in Melbourne surrounded by an unruly mob of brothers, sisters and cousins. As one of the eldest, she took it upon herself to direct everyone in elaborate games about witches, faeries, pixies, goblins and evil characters. She wrote her first book at twelve and entered it in the St Kilda Writers' Festival competition, where it won first prize. Since then, she has been a ballerina, a circus performer, a puppeteer, and a creator of her own theatrical productions, where she tells stories physically and with sign language. The Grimstones: Hatched and Mortimer Revealed have toured around Australia and overseas to great acclaim. The Grimstones books are based on these shows.

Weblink:
www.thegrimstones.com


More like this