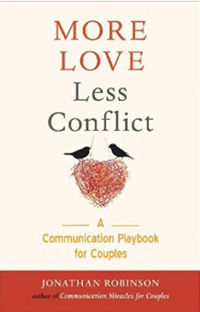 BACK
MORE LOVE, LESS CONFLICT
A Communication Playbook for Couples
The pace of modern life leaves little time to truly connect with our partners, yet the need for good communication is greater than ever before. This book of strategies will teach you how to communicate effectively through structured practices.
You'll learn simple ways to keep the lines of communication open, become a better listener, understand and avoid your own and your partner's triggers, and solve common problems.

The methods in this book will help you to build your communication skills in a safe and deliberate way. Once your communication muscle is strong, you will have the ability to handle almost any situation. Your relationship will be filled with more intimacy and connection and less frustration and arguments.

Jonathan Robinson is a psychotherapist and a professional speaker, who conducts workshops on communication, leadership, and team building at Fortune 500 companies. He is the author of Communication Miracles for Couples.

Weblink:
www.findinghappiness.com


More like this