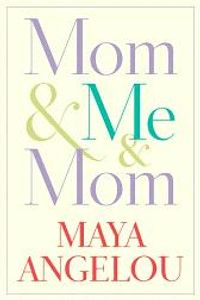 BACK
MOM & ME & MOM
One of beloved author Maya Angelou's most personal stories—the story of her relationship with her mother.
For the first time, Maya Angelou tells the story underneath all of her autobiographies: the story of the strong and remarkable firstborn of the Baxter kids, the story of a young girl who struggled to understand why her mother would send her away, and the story of a lifetime of love and healing between the two. MOM & ME & MOM is poised to be Maya Angelou's most intimate, sentimental, and powerful book yet.

Poet, writer, performer, teacher, and director, Maya Angelou, was raised in Stamps, Arkansas, and then went to San Francisco. In addition to her bestselling autobiographies, beginning with I Know Why the Caged Bird Sings, she has also written five poetry collections, including I Shall Not Be Moved and Shaker, Why Don't You Sing?, two cookbooks, and the celebrated poems "On the Pulse of Morning," read at the inauguration of President William Jefferson Clinton, and "A Brave and Startling Truth," written at the request of the United Nations and read at its fiftieth anniversary. She lives in Winston-Salem, North Carolina.
More like this