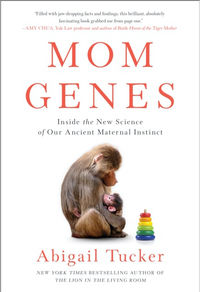 BACK
MOM GENES
Inside the New Science of Our Ancient Maternal Instinct
MOM GENES, Abigail Tucker's follow-up to THE LION IN THE LIVING ROOM. With her usual flare for combining in-depth scientific research with irreverent humor -- plus her own experience as a mother -- Tucker tackles the science of motherhood.
Abigail Tucker, the New York Times-bestselling author of THE LION IN THE LIVING ROOM, turns her attention to the science of motherhood. Together with the thorough research and irreverent humor that made LION such a success, Tucker brings her own experience to bear on the experience of being a mom. With access to a growing body of scientific research, MOM GENES is filled with fascinating insights about the metamorphosis - or metamomphosis, in Tucker's puckish phrase - the female body undergoes during and after pregnancy.

Tucker's account begins with the story of the "Octomom" - a petite purple octopus that scientists discovered off the coast of California and monitored during the fifty-three months - nearly 5 years - of her gestation period, during which the octopus's appearance and behavior change dramatically. Expanding from this anecdote, Tucker moves on to an account that mixes her own experience with captivating scientific insights from the animal world and new science on maternity, exploring the central question: "What rocks the hand that rocks the cradle?"

A rich scientific survey with a warm personal touch, MOM GENES is a book for anyone who wants to better understand their own mom, their wife, or the deranged-looking lady in the carpool lane. But most of all, it's for women in search of themselves - the person they used to be, or the one they will soon become.

Abigail Tucker was the first ever staff writer for Smithsonian magazine, where she remains a contributor. She previously wrote for The Baltimore Sun. Her work has been featured in the Best American Nature and Science Writing. The first word of both of her daughters was "cat."
More like this