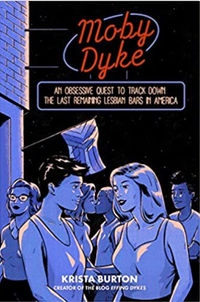 BACK
MOBY DYKE
An Obsessive Quest To Hunt Down The Last Remaining Lesbian Bars in America
This insightful and hilarious travelogue takes the reader along on a journey that is sometimes rowdy (Jell-O shots, Britney Spears playlists, and nights that last until morning) but always full of heart.
In 1987, there were 206 lesbian bars in America; today, only a couple dozen are still open for business. Although they have provided a long-treasured service of safe spaces for their customers - havens that provided not only a good time and a stiff drink, but a sense of belonging, a shelter from societal alienation and outright persecution - these institutions are a fast-vanishing breed. How and why did this happen? What has been lost by such a decline? Has anything been gained? Venturing on an epic cross-country pilgrimage from a drag show in Bloomington, Indiana to a two-stepping dancefloor in Phoenix, Arizona, Krista Burton seeks to answer these questions with firsthand experience while embarking her own personal journey of self-reflection, as well.

Krista Burton is the creator of Effing Dykes, a humor-filled blog that discusses life as a queer woman in the world, and was a frequent contributor to Rookie magazine before its closure. Her writing has also appeared in The New York Times, The Guardian, Elle, and Vice. She lives in Minnesota.
More like this