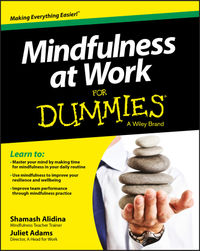 BACK
Mindfulness at Work For Dummies
Learn to:
Master your mind by making time for mindfulness in your daily routine
Use mindfulness to improve your resilience and wellbeing
Improve team performance through mindfulness practice
The guide to mastering your mind to improve your performance and overall wellbeing at work
Master your mind and the rest will follow! This guide to mindfulness at work provides an overview of the concept of mindfulness and a program for improving your work performance and overall wellbeing. Find out how the brain incorporates new mindful work patterns and discover tips to incorporate mindfulness into your routine to truly shine at work!
Be mindful! – find out what mindfulness is and how it can help you in work and in your daily life
Mindfulness at work – discover how you can start the day mindfully and continue that way all day, every day
Organizational mindfulness – find out how to apply mindfulness to team building and for specific business functions
Lead on – discover how to be the leader you've always wanted to be by becoming mindful and learning to thrive instead of merely survive
What pressure? – get tips on being more effective, reducing stress and overcoming pressure at work with mindfulness
Open the book and find:
How you incorporate mindfulness in your daily life
The best ways to apply mindfulness at work
Mindful exercises to do throughout the day
How to boost your mental resilience
Details on creating work/life balance
How to improve team performance with mindfulness
Tips on mindfulness for various business functions
How to become a mindful leader
More like this