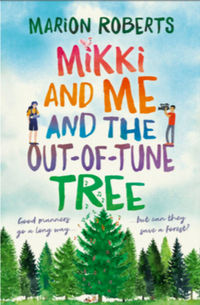 BACK
MIKKI AND ME AND THE OUT-OF-TUNE TREE
After discovering the joys of forest bathing, becoming attuned to the songs of the forest and setting up a successful social media nature channel, Alberta Bracken and Mikki Watanabe are determined to save their local grove of trees from being chopped down.
Eleven-year-old Alberta is having a terrible summer. After a bike-riding accident, caused by the local bully, her arm's in a cast so she can't do her most favourite holiday activity: swimming at the local beach. And her little sister Clementine is EXTREMELY ANNOYING.

To make matters worse, her mum (bestselling author of, Tammy Bracken's Guide to Modern Manners) has asked her dad to leave - after discovering his behaviour has been far from... well-mannered.

So when Mikki Watanabe, budding filmmaker, suggests they start a YouTube channel about the secret life of trees Alberta is ALL IN. And when they discover their trees are earmarked for land clearing by the local government - it's suddenly a race against time to save them.

Funny, warm and a little offbeat, Mikki and Me and the Out-of-Tune Tree hits all the right notes. It's themes of environmental concern and complex family relationships are navigated with humour and tenderness, whilst its lively characters and joyful narrative ensure an uplifting and entertaining read.

Marion Roberts studied Professional Writing and Editing at the Royal Melbourne Institute of Technology and completed a Master of Creative Writing from the University of Melbourne. Her earlier titles include Mostly Sunny with a chance of storms and Sunny Side Up. Marion has also studied science, alternative medicine and psychotherapy and worked as a naturopath and chef. She lives in Melbourne, Australia.
More like this