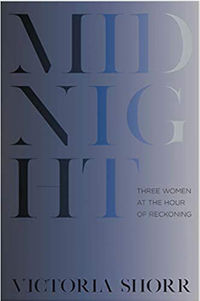 BACK
MIDNIGHT
Three Women at the Hour of Reckoning
Moments of great intensity in the lives of Jane Austen, Mary Shelley, and Joan of Arc, when each faced a decision that would shape her legacy.
When Jane Austen's father deeded the family home to her brother, Jane was tossed to the winds, no money to her name, probably too old to be wed. At this bleak moment, she receives a proposal of marriage from a rich but boring man. Midnight takes us to the hour of her decision: between financial security and her writing career.

When sixteen-year-old Mary Godwin eloped to France with the poet Percy Bysshe Shelley, she was already pregnant. Midnight finds her pacing the Italian shore, five days after her husband has ventured out in a shaky boat on a stormy day. He has not returned.

The fanatic Joan of Arc maintained faith in divine rescue until the first time she was tied to the stake. Realizing that she would burn, she recanted. In Midnight, she confronts her imminent death before facing the flames for a second time.


Victoria Shorr is a writer and political activist. Her first novel, Backlands, was named one of Booklist's top-ten first novels of 2015. She lives in Pacific Palisades, California, where she co-founded the Archer School for Girls.
More like this