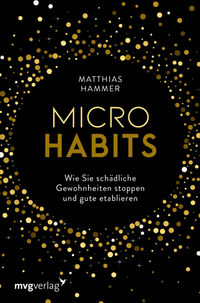 BACK
Micro Habits
How to stop harmful habits and establish good ones
● a new revolutionary approach to behavioural therapy-Micro Habits can help anyone establish new habits. ● healthy nutrition, more sport, mindfulness: this is how anyone can succeed in implementing their own goals and integrating them into everyday life. ● Matthias Hammer is a distinguished behavioural therapist and author, he knows the worries and needs of today.
This book shows you how to break the force of habit with easy tricks
Our everyday lives consist of many small habits that influence and determine our own well-being. Most of the time we do them unconsciously and we don't even notice if they aren't doing us any good. This is why it is often so difficult for us to bring about major changes, such as finally taking regular exercise, giving up smoking or eating a healthy diet.
With the five-step Micro-Habit programme by renowned behavioural therapist Matthias Hammer, anyone can now change their habits and behaviour for the better. Easy to follow and graphic, he explains how to recognize one's own bad habits and replace them step by step with good ones. Making a small change in your day is already enough to improve things with a lasting effect so you can get on with what really matters in your life.
More like this