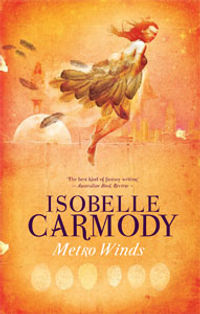 BACK
METRO WINDS
An engrossing collection of stories from one of Australia's most loved fantasy writers, and creator of the acclaimed Obernewtyn Chronicles.
Enter a universe of yearning and transformation.
Herein, find a girl who seeks a lost sister in a park where winter lasts forever, and another sent across the world to discover her destiny in the dark tunnels of the Metro; a young man who travels to meet a woman in place of a man who has died, and a mother who works magic to summon a true Princess for her son; a man who seeks an ending to his story, and an old man who travels in search of his shadow...

Metro Winds reflects Isobelle's own exotic, adventurous life, and features stories set in Paris, Sydney, Venice, Prague and the Greek Islands. Ideal for transporting readers away from everyday life into a world where anything is possible, these stories are glimpses into a world we inhabit and recognise, but with a beguiling magical twist. They explore the interface between old cultures and new, innocence and wisdom, danger, adventure and coming home, the natural world and the dark beating heart of wise women and shape-shifters. Anything is possible.
Carmody's stories are rooted in the present, but have a medieval atmosphere. They wind their way through cityscapes, familiar and not, simultaneously revealing and concealing the characters and their fates. Metro Winds is fantasy as metaphor – sensuous, gritty, sometimes dark though seldom bleak. The stories are redemptive, journeys leading to metamorphosis and transformation.
This brilliant new collection is published alongside a reissue of her previously published stories, Green Monkey Dreams.
Isobelle Carmody has written more than 30 books and is best known for her Obernewtyn Chronicles and for her novel The Gathering (joint winner of the 1993 Children's Literature Peace Prize and the 1994 CBC Book of the Year Award). With her partner and daughter, Isobelle divides her time between Prague in the Czech Republic and her home on the Great Ocean Road in Australia.

Weblink:
http://www.isobellecarmody.net/


More like this