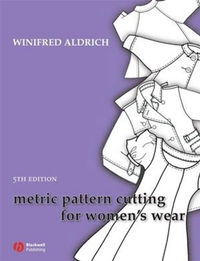 BACK
Metric Pattern Cutting for Women's Wear
Metric Pattern Cutting for Women's Wear
, first published in 1975, provides a straightforward introductory book for students beginning courses in flat pattern cutting.
This fifth edition continues to offer an introduction to the principles of pattern cutting, with a range of good basic blocks and examples of their application to garments.
New for this edition is the inclusion of colour to help students recognize the different sections of the book and to enhance the garment illustrations? Colour illustrations also offer a new dimension to the updated material on computer-aided design and the CAD chapter now provides students with a clear guide to the technology.
The size charts have been revised to reflect the changes in body sizing, the co-ordination with European size charts and to the way that clothes are now marketed to different sectors. The great expansion of casual wear has led to the growth of 'flat cutting' with no darting, and the section devoted to this type of cutting has been further expanded.
This best-selling textbook with its tried-and-tested presentation of authoritative text and clear diagrams remains the essential purchase for students of fashion and design.
More like this