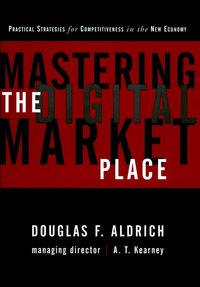 BACK
Mastering the Digital Marketplace
Practical Strategies for Competitiveness in the New Economy
"This is our vision of what the promised digital land is likely to look like; this is our advice on how to best prepare for it." -from Mastering the Digital Marketplace As we head into the twenty-first century, what will separate the winners from the losers in the world of business? As Douglas Aldrich tells us in this comprehensive book, the leaders will be those CEOs who use information technology to its fullest potential across every area of operation, from streamlining internal processes to connecting with suppliers and customers. In short, the line between success and failure will be drawn between those who can function in the emerging digital economy and those who cannot. Based on research developed within A. T. Kearney, this accessible resource provides a logical, step-by-step framework for surviving-and thriving-in the digital marketplace. Aldrich identifies key strategic areas that you as a corporate leader must consider before leading your company into the digital economy: the development of a powerful new consumer value proposition; time value and its impact on products and services; and the growth of new electronic networked business models. In addition to presenting practical methods for developing business strategies around these concepts and organizing for their implementation, Aldrich offers three specific approaches to mastering the digital marketplace: intelligent products, intelligent markets, and intelligent organizations. Along with an array of diagnostic tools, as well as case studies of both successes and failures, here's where you'll find complete details on:
* The Value of time
* Digital containers and content
* A new business model-the Digital Value Network (DVN)
* The evolution of organizational structures
* Creating digital value
Written by a leading authority in conjunction with one of today's leading global management consulting firms, this is a must read for anyone looking to understand-and master-the digital marketplace.
More like this