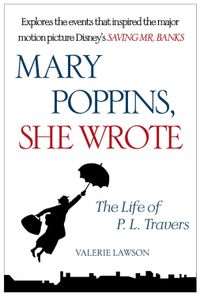 BACK
MARY POPPINS, SHE WROTE
The Life of P. L. Travers
Mary Poppins, She Wrote, tells the story of P.L. Travers' travels from London to Hollywood and her struggles with Walt Disney as he adapted her novel for the big screen.
The story of Mary Poppins's creator, as this first biography reveals, is just as unexpected and remarkable. The fabulous English nanny was conceived by an Australian, Pamela Lyndon Travers, who in 1924 came to London from Sydney as a journalist. She became involved with theosophy and traveled in the literary circles of W. B. Yeats and T. S. Eliot. Most famously, she clashed with "the great convincer" Walt Disney over the adaptation of the Mary Poppins books into film.

Travers, whom Disney accused of vanity for "thinking you [Travers] know more about Mary Poppins than I do," was a poet and world?renowned author as tart and opinionated as Julie Andrews' big?screen Mary Poppins was cheery and porcelain?beautiful ("You've got the nose for it," Travers candidly assessed the star). Yet it was a love of mysticism and magic that shaped P. L. Travers' life as well as the very character of Mary Poppins. The clipped, strict, and ultimately mysterious nanny was the creation of someone who remained inscrutable and enigmatic to the end of her ninety?six years. "Who is P. L. Travers?" the American press inquired of "this unknown Englishwoman" whose stories had inspired the record breaking film and won her international fame. Valerie Lawson's illuminating biography, Mary Poppins She Wrote, provides the first full look at the life of the woman and writer whose personal journey is as intriguing as her beloved characters, the woman who fervently believed that "Everyday life is the miracle."

Valerie Lawson has won awards for her poetry and performance at the Cambridge Poetry Awards and has been twice nominated for Pushcart Prizes. Dog Watch, her first full-length collection of poems was published in 2007 by Ragged Sky Press. She is currently working on a manuscript of poems about winter in far Downeast Maine.
More like this