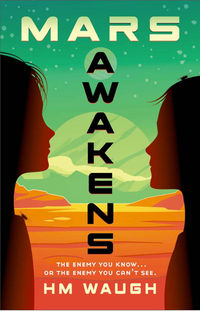 BACK
MARS AWAKENS
Dee and Holt, raised in rival Martian colonies, must come together to fight for survival in this thrilling middle-grade space adventure, the first in a duology, from an exciting Australian talent.
Raised in rival colonies on Mars, each long ago abandoned by Earth, Dee and Holt have been brought up to hate even the idea of each other. But when a mysterious object crash lands on a far- flung Martian plain, they are both sent to investigate and their fates intertwine. Together they must battle epic storms and deadly bioclouds while unpicking the web of lies they have been told about their planet. Will their bond be strong enough to withstand the arrival of a mysterious invader that threatens to end life on Mars forever?

Timely and compelling, Mars Awakens is an unputdownable space adventure that offers a window into our future. The story is richly layered and contains themes of friendship, independence, not being prejudice, resilience, courage and environmental themes.

HM Waugh is an environmental scientist, writer and educator with a long-term love of wild places and high mountains. This has led to icy feet and sunburnt cheeks in magical countries like New Zealand, Nepal, Bolivia and Switzerland. The book's authenticity is informed by HM Waugh's expertise around all things Mars, from the food web that humans would need to create life there to the topography and climate. When not writing, HM Waugh is teaching school and community groups about science and the environment.

Weblink:
www.hmwaugh.com


More like this