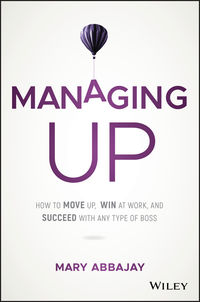 BACK
Managing Up
How to Move up, Win at Work, and Succeed with Any Type of Boss
Managing Up outlines a proven strategy for managing those who manage us! In this book, leadership development expert, Mary Abbajay, drew on her years of experience helping companies and individuals to transform their organizations into positive and productive workplaces. Managing Up is filled with effective approaches for managing your manager based on personality and behavioral preferences. Without resorting to brown nosing or sucking up, you will develop the positive skills that can empower you to forge strong relationships, increase cooperation, collaboration, and understanding between those who have different power levels and perspectives.
Managing Up holds a unique place among the thousands of books on effective leadership and management. As the author explains, the number one reason people leave their jobs is because of their boss. Most leadership literature centers on how to lead downward. This book explores a more important skill, how to manage up and become a successful follower.
Inside these pages, you will discover the key to navigating and targeting personality and behavioral traits. Rather than wishing for the "perfect" boss, you will understand how to adapt to your current boss's style. Once you change your behavior toward your boss, you will be on the road to thriving and surviving in your career.
The author includes a wealth of real-world examples that clearly demonstrate how you can better understand your personality and how your personality can adapt to your boss's traits in order to move forward.
Imagine being able to effectively manage up! It's a proven approach that is good for you, good for your boss, and good for your organization.
More like this