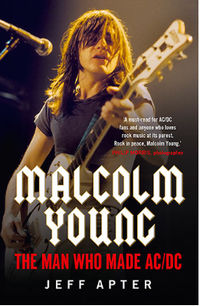 BACK
MALCOLM YOUNG
The Man who Made AC/DC
The first in-depth biography of Malcolm Young, from the author of High Voltage.
Malcolm Young was a legend: the founder and the driving force of AC/DC, a man with what many have called 'the greatest right hand in rock and roll'. That right hand provided the instantly recognisable riffs and muscle behind such timeless songs as 'Highway to Hell', 'Back in Black', 'A Long Way to the Top' and many others. Malcolm was instrumental in ensuring that AC/DC survived shifting musical trends and numerous in-house dramas to stand tall as the biggest rock band on the planet. Yet he was the most unpretentious man to ever strap on a Gretsch guitar.

One of eight children, Young was always destined for a life in rock and roll: his elder brother George was a key member of The Easybeats and was also a vital early mentor of AC/DC. And Malcolm stood alongside his younger brother Angus in AC/DC for the best part of 40 years.

Malcolm lived hard and fast, enduring incredible hardship when the band started out in the mid-1970s, surviving the terrible loss of Bon Scott in 1980, and suffering numerous personal demons, including alcoholism. Yet without Malcolm Young, there would have been no AC/DC. As the band's former bassist, Mark Evans, wrote of Malcolm: 'He was the driven one, the planner, the schemer, the behind the scenes guy, ruthless and astute.'

This is the first biography to focus exclusively on Malcolm and tells the riveting story of his remarkable rise from working-class Glasgow and the Villawood migrant hostel in Sydney to the biggest stages in the world. It includes rarely seen photographs and is essential reading for any AC/DC fan.

JEFF APTER is the author of more than 20 music biographies, many of them bestsellers. His subjects include Johnny O'Keefe, Keith Urban, John Farnham, the Bee Gees, the Finn brothers and Angus Young of AC/DC. As a ghostwriter, he has worked with Kasey Chambers, Mark Evans (of AC/DC) and Richard Clapton. Jeff was on staff at Rolling Stone for several years and has written about legends such as Aretha Franklin, Patti Smith, Robbie Robertson, Bob Dylan, Chrissie Hynde and Lucinda Williams. In 2015, he worked on the Helpmann award-nominated live show A State of Grace: The Music of Jeff and Tim Buckley.
More like this