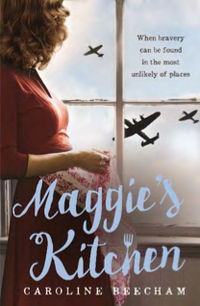 BACK
MAGGIE'S KITCHEN
Amid the heartbreak and danger of London in the Blitz of WWII, Maggie Johnson finds her courage in friendship and food.
Family secrets, poignancy, humour and a love story When the British Ministry of Food urgently calls for the opening of restaurants to feed tired and hungry Londoners during WWII, Maggie Johnson seems close to realising a long-held dream.

Navigating a continuous tangle of government red-tape, Maggie's Kitchen finally opens its doors to the public and Maggie finds that she has a most unexpected problem. Her restaurant has become so popular that she simply can't find enough food to keep up with demand for meals.

Until twelve-year-old Robbie, a street urchin, introduces her to Janek, a Polish refugee working on London's food allotments. Janek shows Maggie how to grow her own food, but in doing so, they're breaking Ministry rules and a shut-down seems unavoidable.

Fighting to keep Maggie's Kitchen open, Maggie discovers that some secrets have the power to change everything. In a wartime of chaos and instability, they all need to find the courage to pick up the pieces and start again.

CAROLINE BEECHAM has 20 years experience across a range of genres including documentary, drama and entertainment. She has worked as a writer, producer and director in Europe, the US and Australasia. She has held the roles of Head of Development at Winchester Pictures and Brighter Pictures (part of Endemol Group) in the UK and was Head of Television Development for Becker Entertainment Group, one of Australia's leading production houses and distributors. Caroline now lives in Sydney.
More like this