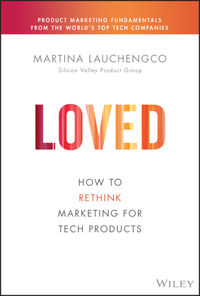 BACK
Loved
How to Rethink Marketing for Tech Products
Good product marketing is the difference between products that lead their markets and those that go nowhere, yet it remains widely misunderstood.
In LOVED: How to Rethink Marketing for Tech Products, Silicon Valley veteran Martina Lauchengco delivers a clear and intuitive guide to craft strategies to bring your product to market, apply customer insights, shape how the world sees your product, and inspire customers to be evangelists. You'll learn these four fundamentals of best-in-class product marketing plus how to implement them, hire for them, and lead and organize the role for maximum impact.
Using stories grounded in her own experiences as well as examples from the front lines of leading companies like Apple, Dropbox, Microsoft, Netflix, and Salesforce, this book provides one-sheet frameworks and agile marketing practices to simplify and elevate your product marketing.
Written for product teams, marketers, founders and company leaders, LOVED describes the key skills, competencies, and actions you must take to do product marketing well and succeed in this crucial function. It invites a customer- and market-centric approach that helps turn customers into raving fans and ensure your products realize their business potential.
LOVED is an insightful and exciting opportunity for you to rethink your company's marketing by focusing on better product marketing.
More like this