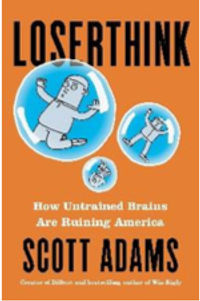 BACK
LOSERTHINK
How Untrained Brains are Ruining America
No matter how smart or well-informed you are, you're probably trapped in a mental prison without knowing it. Scott Adams, the world-famous creator of Dilbert and New York Times bestselling author of Win Bigly, teaches us how to recognize and avoid the "loserthink" that prevents us from seeing outside our own bubbles of reality.
Even the smartest and most educated among us can slip into "loserthink," since we haven't been exposed to the best thinking practices in every discipline. Psychologists, engineers, scientists, entrepreneurs, historians, and artists, for example, all see the world through different filters. If we don't understand the basics of those filters, we're likely to fall into loserthink.

Some signs you've succumbed to loserthink include: inability to get your ego out of your decisions, thinking with words instead of reasons, failing to imagine alternative explanations, trusting your preferred news sources, and making too much of coincidences. And with the never-ending stream of urgent notifications on your phone and anger on your social media feeds, it's easy to feel miserable, defensive, anxious, poor, and sick.

In this book, Adams offers a cure for loserthink by teaching you the most productive thinking practices from a variety of disciplines. You will learn how to.
- Recognize the walls of your own mental prison and break out.
- Understand the world in a way you have never seen it before.
- Be among the most perceptive and respected thinkers in every conversation.

Your bubble of reality doesn't have to be a prison. This book will show you how to break free.

Scott Adams is the creator of Dilbert, one of the most popular comic strips of all time. He has been a full-time cartoonist since 1995, after 16 years as a technology worker for companies like Crocker National Bank and Pacific Bell. His many bestsellers include The Dilbert Principle, Dogbert's Top Secret Management Handbook, How To Fail At Almost Everything And Still Win Big, and Win Bigly. He is co-founder of WhenHub. He lives outside of San Francisco.
More like this