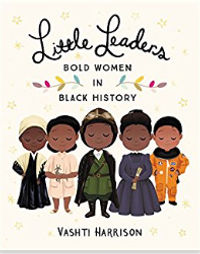 BACK
LITTLE LEADERS: BOLD WOMEN IN BLACK HISTORY
This beautifully illustrated book introduces reader of all ages to 40 women who changed the world. Like Good Night Stories for Rebel Girls, this charming book featuring 96 pages of inspiring Black women's history and is a great gift for kids and adults alike.
Vashti Harrison's debut Little Leaders: Bold Women in Black History grew out of the author's Instagram (@vashtiharrison) project for Black History Month featuring the bios of forty Black women who helped change the course of history.

Featuring forty trailblazing black women in American history, Little Leaders educates and inspires as it relates true stories of breaking boundaries and achieving beyond expectations. Illuminating text paired with irresistible illustrations bring to life both iconic and lesser-known female figures of Black history such as abolitionist Sojourner Truth, pilot Bessie Coleman, chemist Alice Ball, politician Shirley Chisholm, mathematician Katherine Johnson, poet Maya Angelou, and filmmaker Julie Dash.

Half filmmaker and half illustrator,Vashti Harrisonis an artist originally from Onley, Virginia. She has a background in cinematography and screenwriting and a love for storytelling. She received her MFA in Film and Video from CalArts where she snuck into Animation classes to learn from Disney and Dreamworks legends. There sherekindled a love for drawing and painting. Now, utilizing both skillsets, she is passionate about crafting beautiful stories for children and young adults in the kidlit world.
More like this