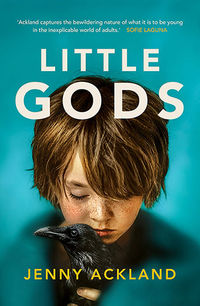 BACK
LITTLE GODS
Little Gods is a novel about the mess of family, and the dark stickiness of childhood coming to an end. Funny and heartbreaking, resonating with echoes of Tim Winton's Cloudstreet and Australian classic Jasper Jones, this is a poignant and original story about an extraordinary girl who learns the hard way that the truth doesn't always set you free.
Olive is a spirited, rollicking whirlwind, a 21st century Huckleberry Finn, who spends her time swimming, climbing trees, driving cars, getting into fights, shooting guns and bullying her cousins into conducting midnight seances.

When Olive discovers a photo of herself and a younger sister who has since disappeared, she sets out to solve the mystery of what happened convinced the baby girl was murdered. But as she delves further into family secrets, long-buried emotions bubble to the surface. Olive's relentless quest has seismic repercussions for the rest of her family and their community. As everything starts to change it is Olive herself who has the most to lose, as the secrets she unearths multiply and take on complicated lives of their own.

Jenny Ackland is a writer and teacher from Melbourne. She has worked in offices, sold textbooks in a university bookshop, taught English overseas and worked as a proof-reader and freelance editor. Her short fiction has been published in literary magazines and listed in prizes and awards. Her debut novel The Secret Son - a "Ned Kelly-Gallipoli mash-up" about truth and history - was published in 2015. Little Gods is her second novel.
More like this