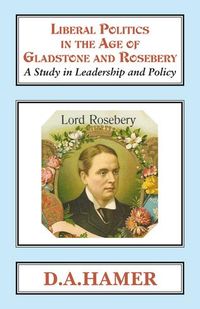 BACK
Liberal Politics in the Age of Gladstone and Rosebery
A Study in Leadership and Policy.
This is a noted systematic survey of the Liberal Party for the key period 1867 to 1905, when the party was in its prime. It is particularly strong on the career of W.E. Gladstone after 1868. It explores key policy themes, and it is an important work placed alongside J.R. Vincent's classic The Formation of The Liberal Party 1857-1868.
The book examines the question of what leading Liberal politicians understood the purpose of the Liberal Party to be, and what were their reasons and assumptions which led to their supporting or promoting particular policies.
Professor Hamer examines at length the philosophies and strategies of Joseph Chamberlain, Gladstone, Sir William Harcourt, Lord Rosebery and Sir Henry Campbell-Bannerman. He also highlights the major organizing and controlling themes, both in relation to their own ideas and in relation to their Conservative opponents.
More like this