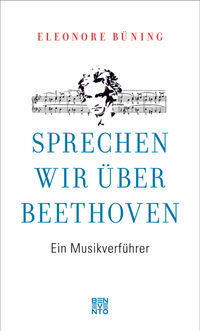 BACK
LET'S TALK ABOUT BEETHOVEN
✦ Beethoven celebrates his 250th birthday in 2020 - A Seductive Musical Guide
Eleonore Büning, one of the most renowned music critics in Germany, takes us into the world of Beethoven and shows why we continue to be enthralled by him time and again. Why his music polarizes, nowadays just as it did in his own lifetime, and why the composer still moves us deeply.
Ludwig van Beethoven has accompanied Eleonore Büning all her life: he was thesubjectofherdissertation(HowBeethovenReachedHisPedestal)andofa radioseriespresentedbyherontheculture-segmentoftheRBB(RadioBerlin Brandenburg), which also formed the basis ofthisbook.
Let'sTalkAboutBeethovenisauniqueportraitthatdrawsfromimmense knowledge, is highly entertaining and is carried, first and foremost,by an unconditional love formusic.
More like this