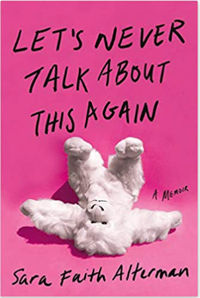 BACK
LET'S NEVER TALK ABOUT THIS AGAIN
Expanding upon a piece Sara wrote for the New York Times, LET'S NEVER TALK ABOUT THIS AGAIN is funny and heartbreaking, absent of the self-conscious frenzy that sometimes punctuate these kinds of memoirs. Instead, it contains frank and funny confessions of the heart from a woman who spent years trying to find humor in the perverse and optimism in the darkness.
When she was twelve years old, Sara Faith Alterman found the skeleton in her prudish parents' closet. It was naked. Fine, all skeletons are naked, technically, but this skeleton was a novelty sex book starring a zaftig and exuberant woman named Bridget. Bridget was crammed high up on a shelf in Sara's childhood living room, next to another book called Games You Can Play With Your Pussy. It was not a book about cats. It was, however, written by Sara's ordinary suburban dad, Ira.

LET'S NEVER TALK ABOUT THIS AGAIN is a cringe-worthy and charming story that soars through a narrative of sexual awakening and sexual awkwardness. The books were an unspoken secret among Sara's family until, two decades after her discovery, Ira developed early onset Alzheimer's disease and announced that he'd be reviving his novelty porn career. With Sara's help. Pregnant, disgusted, and devastated by her father's illness, Sara soldiered on, mourning the loss of the father she knew and trying, trying, to welcome this pervy neurological stranger with open arms.

Readers who love comic explorations of mortality, such as the works of David Sedaris, Jenny Lawson, Dave Eggers, and the TV show The Good Place, will fall hard for Sara's unique and inviting personal story.

Sara Faith Alterman is a writer and producer. Her work has been featured in The New York Times, The Boston Globe, Architectural Digest, The Boston Phoenix, McSweeney's, and, most recently, the anthology 'Modern Loss: Candid Conversations About Grief' (Gabrielle Birkner and Rebecca Soffer, Harper Wave, 2018). For over a decade she's been producing the New England chapter of Mortified, the long-running stage show and podcast featuring adults sharing the hilariously awkward artifacts of their youth.
More like this