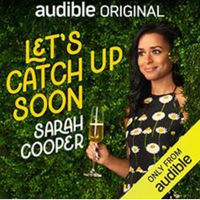 BACK
LET'S CATCH UP SOON
How I Won Friends and Influenced People Against My Will
A modern, comedic take on Dale Carnegie's bestselling HOW TO WIN FRIENDS AND INFLUENCE PEOPLE, LET'S CATCH UP SOON is Sarah's hilarious and heartfelt self-help memoir about confronting your fears, truly loving yourself and forming deeper connections. With heart and vulnerability, Sarah turns her gift of observational humor on herself.
Do you dread small talk? Can't seem to remember names? Does being told to smile more make you seethe? Yet do you long for deeper and more meaningful friendships? Sarah Cooper's Let's Catch Up Soon: How I Won Friends and Influenced People Against My Will shares how to survive our newest life challenge: connecting with people face-to-face again. In 2020, Cooper caught herself and the world off guard when her TikTok lip-synchs of President Trump's COVID-19 press conferences went viral. Her video satires spoke volumes. Now she has produced the perfect guidebook for post-pandemic interactions.
Though she didn't plan that, either.

When first approached about reimagining Dale Carnegie's granddaddy of business books, she couldn't have been more thumbs down. As Cooper recalls, "Written in 1936, at a time when dealing with strangers in the professional world was a relatively new phenomenon, it lays out 30 principles for dealing with people. Principles such as smile, remember names, be genuinely interested, make people feel important, give compliments, don't complain, and never argue, all in the hopes of getting people to like you. And to me, it all sounded like a bunch of manipulative BS. People pleasers know all these tricks all too well, Dale! So, my plan was to rip this Dale person apart."

Before long Dale became an annoying voice in her head, propelling her to try things she never normally would, both personally and professionally. Through her lens as a woman, an immigrant, and an aspiring actress turned techie turned actress, Cooper realizes getting people to like you, the real you, will be impossible if you never take the time to figure out who you really are.

Written during the years 2019, 2020, and 2021, Let's Catch Up Soon is, like the best comedy memoirs, both laugh-out-loud funny and emotionally disarming. Filled with astute commentary on the politics of meetings, the pain of mixers, and the things we wish we could remember but always forget, it's also the perfect self-help manual for anyone looking to find new friends and build stronger connections in this post-COVID age.

"This little Dale Carnegie book project morphed into something I wasn't planning or expecting. It changed when I changed, and then it changed me." It may just do the same for you.
More like this