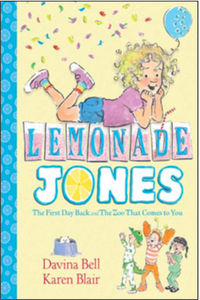 BACK
LEMONADE JONES
Lemonade Jones is nearly six. She is curious, determined, fun and sometimes just a little bit wicked. Two delightful stories about a girl who loves to ask 'why?'.
The First Day of School encapsulates the uncertainty and tumult of that first day back the emotional rollercoaster of discovering your best friend isn't in your class and getting used to a new teacher and new classmates. The Zoo that Comes to You is a classic comic close-up - the tension builds and builds until an explosion of chaos, all of which brings Lemonade's dad home. Which is exactly what she wanted on her birthday.

Lemonade Jones was turning six. For the first me ever she was allowed to have a party. The party she had chosen was The Zoo That Comes to You.
In Show and Grow Time, Lemonade Jones stood at the front of the class to tell all about it.
'There's only one lion on the invitation,' Lemonade Jones told the class. 'But there will be seven at the party. And a bear on a tiny bicycle. And a crocodile.'
Leela Blue put up her hand. 'Is that allowed?' she asked. 'I think there are rules about dangerous animals. I think they need to be in cages or people might get hurt.'
Leela Blue cared a lot about rules. Lemonade Jones did not.

Davina Bell is a book editor and author of children's fiction including Baby Days (see page 1) and Hattie Helps Out. Her 2015 picture
book The Underwater Fancy Dress Parade, illustrated by Allison Colpoys, was awarded the 2016 ABIA for Small Publishers' Best Children's Book and was the CBCA winner of the Crichton Award.
Karen Blair is the award-winning illustrator of With Nan (CBCA Honour Book) and Granny Grommet and Me (CBCA shortlisted book). Karen loves to draw characters. She also teaches art which allows her to play with clay, sculpture and all sorts of other lovely art materials.

Weblink:
www.davinabell.com


More like this