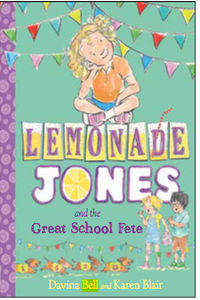 BACK
LEMONADE JONES AND THE GREAT SCHOOL FETE
Lemonade Jones - a feisty girl with a lot of fizz who has a way of getting in and out of trouble!
The school is having a fete and Lemonade couldn't be more excited! There'll be a haunted house, face pain ng, a blow-up slide, her dad's firetruck and so many yummy treats to eat. She's even volunteered her Mum to sing in the Mum Band. Uh-oh!

Fete day arrives and a whole year of pocket money jingles in Lemonade's pockets. The day is hot and intense with excitement. There's so much to do and so much to eat! Soon, it all starts to spin together in Lemonade's tummy. But wait! The Mum Band is on stage! Lemonade races to watch her mum shine ... or not. Lemonade rushes on stage to save the day. But does she? An explosion of events makes for a fabulously funny fete finale!

Davina Bell is a book editor and author of children's fiction including Baby Days and Hattie Helps Out. Her 2015 picture book The Underwater Fancy Dress Parade, illustrated by Allison Colpoys, was awarded the 2016 ABIA for Small Publishers' Best Children's Book and was the CBCA winner of the Crichton Award.
More like this