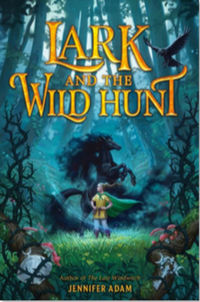 BACK
LARK AND THE WILD HUNT
The Real Boy meets The Girl Who Drank the Moon in Jennifer Adam's second middle grade magical adventure, which takes readers deep into the world of the fae on one brave young girl's quest to save her brother.
Like most children, Lark Marin knows to never trust a fae. In her village, the border between their worlds is thin as a whisper - preserved only by the ritual of humans and fae alike racing in the dangerous Wild Hunt. Until one year, the border breaks, and Lark's brother, Galin, disappears.

Lark is desperate to find him, so when a mysterious fae boy named Rook approaches her with a bargain - help him mend an arcane clock and he'll help her find Galin - Lark takes the chance. She knows she should never trust a fae, but right now, trusting is the bravest thing she can do. Soon she's on a quest into the fae kingdom, with only a broken clock and Rook by her side. To save her brother, she'll have to untangle fae riddles and face the wicked fae king himself - or be trapped within the fae realm forever with Galin.


Jennifer Adam adopts and rides wild mustangs off the western rangelands when she's not busy writing and researching. Living on a third-generation farm in Missouri with her husband and children has taught her a deep reverence for nature and the weather, which also tends to weave its way into her stories. She has had a variety of short stories, essays, and poetry published in magazines and anthologies. She is also the author of The Last Windwitch, and you can learn more about her at www.jenniferfrancesadam.com.

Weblink:
www.jenniferfrancesadam.com


More like this