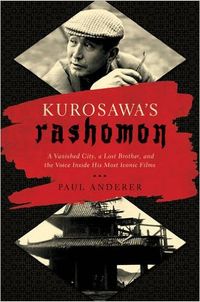 BACK
KUROSAWA'S RASHOMON
A Vanished City, a Lost Brother, and the Voice Insie His Most Iconic Filma
Akira Kurosawa is one of cinema's greatest and enigmatic artists. Examining his dazzling films and mysterious past, KUROSAWA'S RASHOMON provides a greater understanding into the director's unique genius.
Despite his status as a global icon, Kurosawa's life story remains an enigma, and thus art imitates life with its own "Rashomon" effect. First, there were his early years as a painter and young socialist. Then, there was his fiercely intelligent and tormented older brother, Heido. And finally, there is the epic narrative of 20th century Japan's rise and fall. Kurosawa's iconic film marks a turning point in world cinema and allows us to probe the intricacies and conflicting details of Kurosawa's life and times.

To discover the true Kurosawa, Paul Anderer guides us through the ruins of a defeated country and a shattered family. With fresh and insightful prose, Anderer brings to life the dynamic energy of Tokyo in the 1920's and the city's impact on the young Kurosawa. He also resurrects the specter of Kurosawa's older brother, Heido, who took Kurosawa to see his first films. Heido himself was a star in the then-thriving silent film industry, leading a colorful, rebellious life until his despairing, tragic end. Through it all, Anderer brings these formative years into focus and looks beyond the aura of Kurosawa's enduring fame. KUROSAWA'S RASHOMON brings Kurosawa and his vivid, challenging world to life.

This has serious legs: by any standard, Kurosawa is a legendary filmmaker and "Rashomon" is a classic. Film wiz kids around the world — particularly in Korea, China, Tawan, and Japan -- cite Kurosawa as their primary inspiration.

Paul Anderer holds degrees from Michigan, Chicago (MA), and Yale (Ph.D.) and is now on the faculty at Columbia University. His writings include Other Worlds: Arishima Takeo and the Bounds of Modern Japanese Fiction and Literature of the Lost Home: Kobayashi Hideo?Literary Criticism, 1924-1939. His work has won support from the Fulbright Commission and the National Endowment for the Humanities. Anderer has been a visiting fellow at universities in Japan and has given lectures around the world on Kurosawa and his films.
More like this