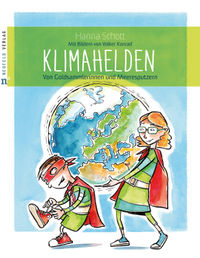 BACK
Klimahelden (Climate heroes)
Von Goldsammlerinnen und Meeresputzern (Stories about gold collectors and ocean cleaners)
Recommended by the German Academy for children's and youth literature
The earth is our home planet. It is incredible beautiful and offers us everything we need for living. But: It seems it has temperature. And sometimes it has breathing difficulties.
This book full of surprising stories and exciting ideas shows what children can do and already are doing around the globe in order to preserve a healthy environment and slowdown climate change.
Hanna Schott reports about tree-planter Felix Finkbeiner. About food-rescuer Oskar and Matilde from Norway. About Isabel and Melati and their successul fight against plastic waste starting in Bali. And she tells us about many more climate heroes being "ordinary" children.

Weblink:
https://www.neufeld-verlag.de/de/klimahelden.html


More like this