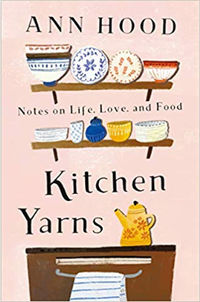 BACK
KITCHEN YARNS
Notes on Life, Love, and Food
The great food writer M.F.K. Fisher once said that she didn't write about food, she wrote about love. In this memoir with recipes, Ann Hood writes about family and culture, loss and hope, finding her way around a kitchen and through life.
In this warm collection of personal essays and recipes, best-selling author Ann Hood nourishes both our bodies and our souls.

From her Italian-American childhood through raising and feeding a growing family and cooking with her new husband, food writer Michael Ruhlman, Ann Hood has long appreciated the power of a good meal. Growing up, she tasted love in her grandmother's tomato sauce and dreamed of her mother's special-occasion Fancy Lady Sandwiches. Later, the kitchen became the heart of Hood's own home. She cooked pork roast to warm her first apartment, used two cups of dried basil for her first attempt at making pesto, taught her children how to make their favorite potatoes, found hope in her daughter's omelet after a divorce, and fell in love again - with both her husband and his foolproof chicken stock.

With her signature humor and tenderness, Hood details all these recipes and more in KITCHEN YARNS, along with tales of loss and starting from scratch, family love and feasts with friends, and how the perfect meal is one that tastes like home.

Weblink:
annhood.us


More like this