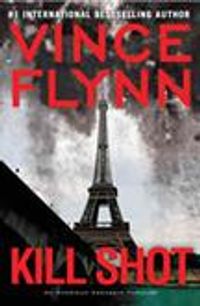 BACK
KILL SHOT
An American Assassin Thriller
#1 internationally bestselling author Vince Flynn delivers the young, hungry, and lethal Mitch Rapp at the onset of his career as a CIA superagent.
In the year since the CIA trained and then unleashed him, Mitch Rapp has been steadily working his way through a list of men, bullet by bullet. With each swift and untraceable kill, the tangled network of monsters responsible for the slaughter of 270 civilians in the Pan Am Lockerbie attack become increasingly aware that someone is hunting them. Rapp is given his next target, and finds the man asleep in his bed in Paris. In the split second it takes the bullet to leave Rapp's silenced pistol, the trap is sprung and he finds himself in the fight of his life.
The next morning, nine bodies are discovered in one of Paris's finest hotels—among them the Libyan oil minister. Back in Washington the finger-pointing begins in earnest as no one wants any part in what has become an international crisis and potential embarrassment for the CIA. Rapp's handlers have only one choice—deny any responsibility for the incident and pray that their newest secret weapon stays that way. Rapp must avoid capture or die quietly. One person in the group, however, is not prone to leaving such important things to chance. Rapp has become a liability, and Stan Hurley will not allow Rapp to be taken alive by the French.

Vince Flynn is an American author of political thriller novels. Pocket Books published the hardcover edition of TERM LIMITS in 1998, and the mass market paperback of TERM LIMITS in 1999, which spent several weeks on The New York Times bestseller list. Subsequent works, including Flynn's 1999 novel, TRANSFER OF POWER, his 2000 novel THE THIRD OPTION and his 2001 novel SEPARATION OF POWER, also appeared on the New York Times bestseller list. Flynn's fifth novel, EXECUTIVE POWER, was published in hardcover by Atria Books in May 2003, followed by his sixth novel MEMORIAL DAY in 2004, his seventh novel CONSENT TO KILL in October 2005, his eighth novel ACT OF TREASON in October 2006, his ninth novel PROTECT AND DEFEND in 2007 and his tenth novel EXTREME MEASURES in 2008. Flynn lives with his wife and three children in the Twin Cities. For more informations visit http://www.vinceflynn.com/.

Weblink:
http://www.vinceflynn.com/


More like this