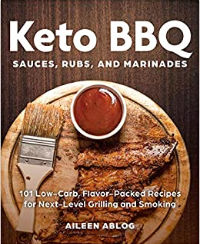 BACK
KETO BBQ
Sauces, Rubs, and Marinades: 101 Low-Carb, Flavor-Packed Recipes for Next-Level Grilling and Smoking
Spice up your next backyard barbecue with this ultimate book of keto-friendly and sugar-free BBQ sauces, relishes, aiolis, dressings, and other tasty condiments.
The key to the best barbecue is in the sauce - the delicious, sweet, smoky flavor that gets basted in and charred. But most store-bought sauces are packed full of sugar and preservatives, which is sure to knock your body out of ketosis. Keto BBQ Sauces, Rubs, and Marinades will show you how to have it both ways - delicious keto-friendly barbecue with all the flavor and none of the sugar.

No matter what you want to grill, smoke, griddle, or roast, this book has the recipe you need to make your meat juicy, flavorful, and, of course, keto-friendly. From mayos and aiolis to ketchup, mustards, and marinades, these easy recipes will add the perfect touch to your meal.

You'll learn how to make keto-friendly alternatives for your favorite sauces, like:
- North Carolina Vinegar Sauce
- Korean BBQ Sauce
- Teriyaki
- African Peri Peri Sauce

Keto BBQ Sauces, Rubs, and Marinades will show you that you can enjoy mouthwatering, flavor-packed barbecue and still keep to a keto lifestyle.

Aileen Ablog discovered the ketogenic diet when she was faced with a future of health ailments, such as heart disease and diabetes after having fought endometrial cancer 5 years prior. Aileen created the blog thrivingonlowcarb.com initially to document her journey. By day she works at the University of the Fraser Valley, as a chemistry lab technician and lives in Chilliwack, BC with her husband Jeffrey and sassy cat, Lucy. She enjoys cooking, watching movies and more recently, weight lifting. Rumor has it that Aileen takes her Instant Pot everywhere she goes!
More like this