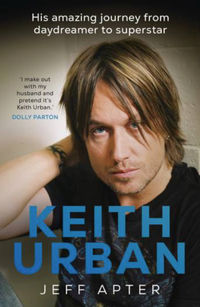 BACK
KEITH URBAN
His Amazing Journey From Daydreamer to Superstar
This comprehensive biography will document how Keith Urban lived out his childhood dream - and also reveal the price he's had to pay to reach the top.
Keith Urban is not only Australia's most successful country music star, he is without doubt one of the biggest and commercially most successful music stars of the world. His fan base in the US numbers in the millions, he has sold more than 15 million albums and scored countless Top 10 singles. Keith Urban is the first biography of him to hit the market in more than 15 years. In the meantime he has married Nicole Kidman, gone through recovery and become a father, starred on The Voice and American Idol, and has continued to sell hit record after hit record. This is the definitive biography of the super star.

Keith Urban came from humble origins. Born in New Zealand and raised in outer Brisbane, his father worked at the local tip; Keith was a high school dropout. When he was a child, the family house burned down, like something straight out of a country song. But Keith had a plan: 'Nashville's not my dream,' he once said. 'It's my destiny.' And Keith was hell-bent on scaling that musical Everest, whatever it took.

It didn't come easy. Keith served his apprenticeship in the beer barns of Australia and was constantly on the road. His early trips to America, meanwhile, were disasters. But he never gave up, settling in Nashville in the 1990s and forming The Ranch. When the band fell apart, so did Keith, ending up in rehab (not for the last time). Keith did eventually reach the top, however, through a combination of talent, charisma, sex appeal, dogged perseverance and a thick skin.

Keith Urban has lived out his musical dreams: he's jammed with the Rolling Stones, buddied up with John Fogerty and Glen Campbell and shared a stage with the Reverend Al Green. He's become a regular on Oprah and Ellen. And in a seemingly unlikely makeover, Keith has recently worked with the biggest names in pop, dance and groove, from Taylor Swift to Pink, Nile Rodgers to Post Malone and Pitbull. Along the way Keith has won four Grammys, the same as the Bee Gees and Olivia Newton-John. He's also recorded 20 US Country Number One hits.

JEFF APTER is the author of more than 20 music biographies, many of them bestsellers. His subjects include Johnny O'Keefe, John Farnham, the Bee Gees, the Finn brothers and Angus Young of AC/DC. As a ghostwriter, he has worked with Kasey Chambers, Mark Evans (of AC/DC) and Richard Clapton. Jeff was on staff at Rolling Stone for several years and has written about legends such as Aretha Franklin, Patti Smith and Bob Dylan. In 2015, he worked on the Helpmann award-nominated live show A State of Grace: The Music of Jeff and Tim Buckley. He lives in Wollongong, New South Wales, with his wife, two children and their cat.
More like this