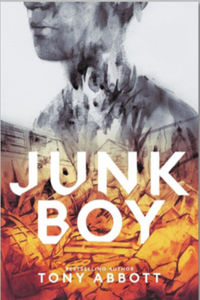 BACK
JUNK BOY
Bestselling author Tony Abbott's first YA novel-in-verse is an unflinching and heartbreaking look at a boy's junk-filled life, and the ways he finds redemption and hope.
Junk. That's what the kids at school call Bobby Lang, mostly because his rundown house looks like a junkyard, but also because they want to put him down. Trying desperately to live under the radar at school - and at the home he shares with his angry, neglectful father - Bobby develops a sort of proud loneliness. The only buffer between him and the uncaring world is his love of the long, wooded trail between school and home.

Life grinds along quietly and hopelessly for Bobby until he meets Rachel. Rachel is an artist who sees him in a way no one ever has. Maybe it's because she has her own kind of junk, and a parent who hates what Rachel is: gay. Together the two embark on journeys to clean up the messes that fill their lives, searching against all odds for hope and redemption.

Narrated in Bobby's unique voice in arresting free verse, this novel will captivate readers right from its opening lines, urging them on page after page, all the way to its explosive conclusion.

Tony Abbott is the author of over 100 books for young readers, including the series the Secrets of Droon and the Copernicus Legacy and the novels Firegirl, Lunch-Box Dream, The Great Jeff, and Denis Ever After. Tony has worked in libraries, bookstores, and publishing and has taught creative writing. He lives in Trumbull, Connecticut.

Weblink:
www.tonyabbottbooks.com


More like this