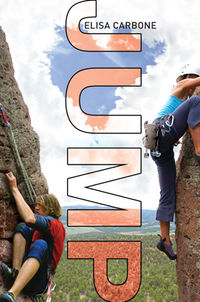 BACK
JUMP
Mix the movies Thelma and Louise with Cliffhanger, and you'd get the adrenaline and adventure of Jump - although you might not get the sweet romance of these two charismatic teens, determined to live life to the fullest. Before they're caught, that is.
Rather than let her parents send her away to boarding school, 16-year-old PK runs away from home. Along the way she meets up with a boy named Critter, who has also just run away-only he's left a psychiatric ward, where he was committed after a suicide attempt a few years ago. The two share a love of rock climbing, so they head to the Red Rocks, where they chart virgin climbing routes and, slowly, fall for one another.

When police catch them at Red Rocks and stick them in a local juvenile detention facility, PK and Critter run away again-this time, to Yosemite. But the cops are still on their trail: They believe Critter to be "a danger to himself and others," including PK, and they will stop at nothing to catch him and lock him up again. Critter and PK keep running, but in the mountains, the only direction to run is up.

Elisa Carbone is a full-time children's books and YA writer. She was raised in Arlington, Virginia and received two master's degrees from University of Maryland, one in Speech Communication and the other in Education. She now lives part time in the Washington D.C. area and part time in the mountains of West Virginia. She is an avid climber, paddler, windsurfer and skier.
More like this