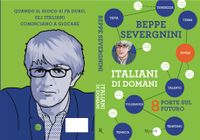 BACK
ITALIANI DI DOMANI
Tomorrow's Italians. This book is for them, and for anybody else who cares about Italy's future. The nation is emerging from 18 years of legerdemain. After Silvio Berlusconi, the country's illusionist-in-chief, Italy has to make up its mind where to go.
Tomorrow's Italians is a compellingly practical book. How to make it as Italians, stay out of trouble and get on in the world.

Italians are resourceful, and are at their most ingenious when their backs are to the wall.
It's the Italian Paradox. When the going gets tough, the Italians get going.
This book is for anyone who wants to learn the Italian lesson.
There is a way, just find it.

Beyond those junctions may not lie success. But what is within reach is a better life. And a better Italy.

Weblink:
http://www.beppesevergnini.com/


More like this