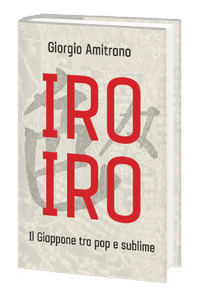 BACK
Iro Iro - Japan from pop to sublime
From the historical roots of karaoke to a magical and melancholic evening in a small bar with a famous writer and two mysterious customers; from the unpredictable outcomes of a calligraphy exercise which took place in an ancient monastery to the discovery of the contemporary Japanese taste through writers, artists and fashion designers; from the reality behind the Japanese topics most known in the West, such as ikigai, to the subtle edge that separates reality from fantasy in the pages of Murakami… Personal memories, references to films and novels, and thoughts born from the long time the author passionately spent in Japan are perfectly balanced in a prose that has great legibility but also a strong poetic charm, that is often fun without ever losing its elegance, and that is, above all, true.
A sentimental journey through the real Japan and the literary one.
A memoir born from a lifelong love, a tale written with poetic sensitivity.
Japanese literature, culture and lifestyle have a strong appeal for readers.
The 2020 Summer Olympics will be held in Japan, boosting interest in all things Japanese.
In Japanese Iro iro means a miscellany, an articulated and surprising whole: and so is this book, which leads the reader on an unforgettable journey through the life and the literature of one of the most fascinating peoples of the world.
The book explores different themes and situations: a charming and surprising read for all those who love Japan and Japanese culture.
This book goes beyond stereotypes, both prejudices and the blind infatuation that the West has long cultivated with regard to Japan.
More like this