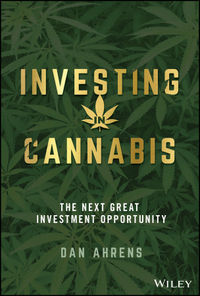 BACK
Investing in Cannabis
The Next Great Investment Opportunity
Cannabis represents one of the most exciting investment opportunities available today. As markets across the world liberalize and cannabis moves from the black market to the legal one, public and private firms are jockeying for position and your investment dollars. But do you know how to select which companies are ripe for profitability and which are wasted opportunities?
Investing in Cannabis offers a comprehensive look at the cannabis industry and how to invest in it. You'll learn about the differences between public cannabis companies and private investments, individual securities versus cannabis-based exchange traded funds, and the use of cannabis products in the pharmaceutical industry.
Author Dan Ahrens, an expert in investing generally, and "vice investing" in particular, also shows you the common pitfalls encountered by investors in budding new industries and how to avoid making the same mistakes as the people who've gone before you. The author also delves deeply into the differences in various national markets, particularly in the similarities and differences between the Canadian and American cannabis markets.
The book is filled with actionable advice based on solid historical data, all of which is laid out in an easy-to-follow and approachable style. Written for members of the wider public, as opposed to solely for investment professionals, Investing in Cannabis keeps its message understandable, without skimping on rigorous research.
Perfect for anyone interested in the incredible opportunities offered by newly formed markets in cannabis investment, Investing in Cannabis will be of particular interest to individual and professional investors who hope to get in on the ground floor of a powerful new industry that promises to transform entire sectors of the economy.
More like this