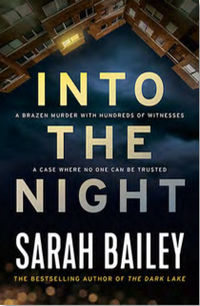 BACK
INTO THE NIGHT
Follow-Up to THE DARK LAKE.
Senior Detective Gemma Woodstock returns not wholly the same person that she was before the murder of Rosalind Ryan, but perhaps an even better detective. Woodstock has left behind the (mostly) sleepy town of Smithson and is working the big-time cases in the metropolitan headquarters of the Melbourne homicide squad. As Gemma struggles with being so far away from her son Ben, back in Smithson, an up-and-coming Australian movie star, Sterling Wade, is stabbed to death while the cameras are rolling on a blockbuster new film.

How can it be so hard to catch the crazed culprit with the whole thing caught from multiple angles? And who would want to hurt Sterling Wade, Australia's boy next door? Has an adoring fan taken an obsession to violent ends, or has someone much closer to the star turned? The supporting role actress' girlfriend, the headline Hollywood co-star, Sterling's gay lover, and even his jealous brothers are all on the hook of Gemma and her detective partner, Fleet. Will they solve the murder or just unravel the many secrets the famous try to hide from their adoring public?

SARAH BAILEY is a Melbourne based writer with a background in advertising and communications.
More like this