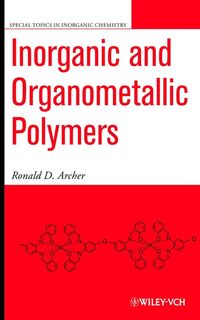 BACK
Inorganic and Organometallic Polymers
A balanced and concise coverage of inorganic polymers
Inorganic polymers contain elements other than carbon as part of their principal backbone structure and are known to exhibit a wide range of composition and structure. Emphasizing physical properties, chemical synthesis, and characterization of inorganic polymers, Inorganic and Organometallic Polymers presents valuable and informative coverage of the field.
With numerous examples of real-world practical applications and end-of-chapter exercises, Inorganic and Organometallic Polymers is suitable for use as a text in special topics in organic and polymer chemistry courses. The book features useful sections on:
Classification schemes for inorganic polymers
Synthesis of inorganic polymers, including step-growth syntheses, chain polymerizations, ring-opening polymerizations, and reductive coupling reactions
Practical inorganic polymer chemistry topics such as polymer elastomers, dental and medical polymers, lubricants, lithographic resists, pre-ceramics, and more
Inorganic and Organometallic Polymers is a valuable one-volume introduction for professional and student inorganic chemists, polymer chemists, and materials scientists.
More like this